22 November 2019 | London, 15:00 GMT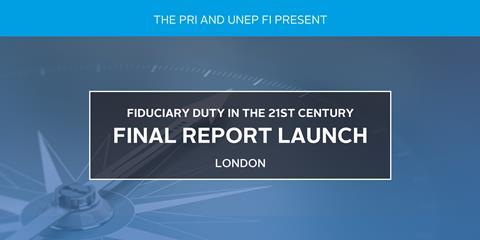 Date: Friday, 22 November 2019
Time: 15:00 GMT
Location: The Generation Foundation, London, 20 Air street.

Join UNEP FI and the PRI for the London final report launch of the Fiduciary Duty in the 21st Century programme on Friday, November 22, at 1500 GMT, hosted by The Generation Foundation.
The Fiduciary Duty in the 21st Century programme was launched in 2016 to end the debate on whether fiduciary duty is a legitimate barrier to the integration of environmental, social and governance (ESG) issues in investment practice and decision-making. Over the past four years, the programme has produced extensive evidence on the subject and has advocated for global policy reform to clarify fiduciaries' duties to their beneficiaries.
Most investors and policy makers have accepted our central conclusion, that failure to consider long-term investment value drivers, which include ESG issues, in investment practice is a failure of fiduciary duty. Progress has taken hold in most markets – including the EU, UK, Canada, and China – with the exception to this trend in the US.
If you have any questions, please contact Elodie Feller.
Express your interest here.